How to Embed the Ticket Selector in a Facebook Page
This is quick and easy using Event Smart. If you have already created your event, follow the instructions below.
Getting your ticket selector embed code
Step 1
Click the " Embed" tab from within the Event Smart event editor.
Step 2
Select and copy the iframe code from the modal popup window.
Adding Iframe App to your Facebook Page
Step 1
Go to your Facebook page and on the search bar enter "Static HTML: iframe tabs" or visit this link https://apps.facebook.com/static_html_plus
Step 2
Click the " Add Static HTML to a Page" button.
Step 3
Choose your Facebook page to add the iframe tab and click the add button.
Adding the Ticket Selector to your Facebook page
Step 1
Go to your Facebook page and find the Custom iframe app you just installed. It is usually found under More options named "Welcome" tab as seen on the screenshot below. See FAQ section below if you want to change the default page tab name.


Step 2
Click " Edit Tab" to add content to the Page Tab.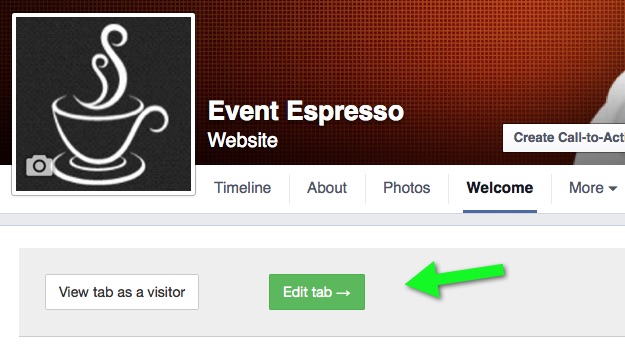 Step 3
There are two options you can choose to display your form on your Facebook page. The first one Content (Public Content) makes it available to everyone, while the second one Leadgate (Fan Content) makes it available only to your Facebook fans, or users who liked your Facebook page. Make sure to publish your page afterwards. Check the following screenshot.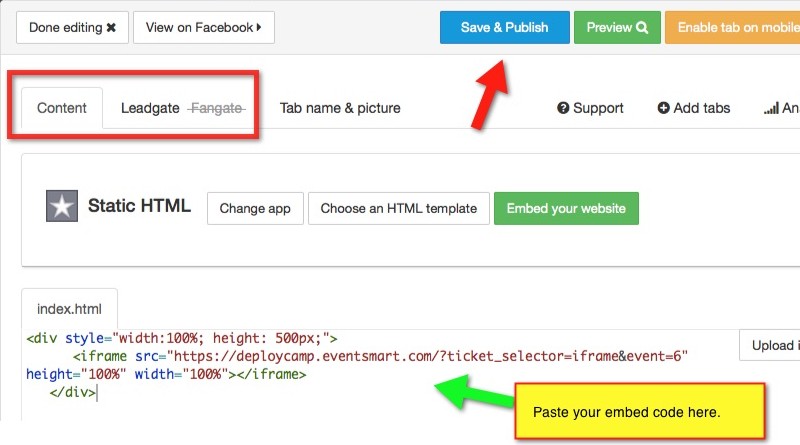 Frequently Asked Questions (FAQ)
The page tab does not appear on mobile devices? Page tab apps are not supported on mobile devices by Facebook's Platform. However, Static Iframe Tab App provides direct URL to your page tab that is viewable on mobile devices. To get your page direct URL, simply edit your Facebook tab, click on the "Enable tab on mobile devices" button, and copy the link you see on the Tab URL box.

How to change the page tab name and tab image?These can be changed on the tab settings. Go to your tab settings and look for the "Tab name and picture" tab.

Alternative iFrame apps for your Facebook page
If you are stuck with any of the steps above or if you have further questions about this guide, feel free to contact us.